EFA Helmet Tagging Sunshine Coast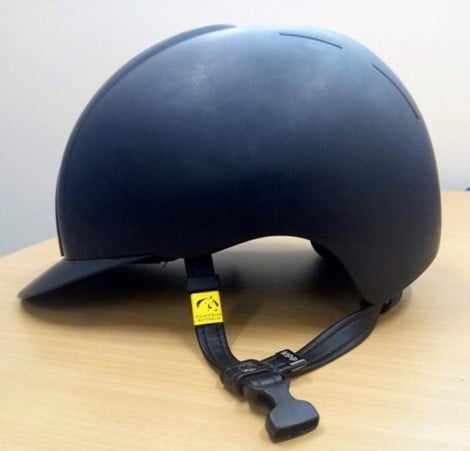 Sunshine Coast Saddlery have two EFA Helmet Taggers in Store.
Please call ahead to check one of our taggers is available to avoid disappointment.
Please note this is a free service and it is not a given that someone is always available to tag your helmet.
Please have your helmet out of its packaging with the liner pulled away (to expose the manufacturing sticker).
All helmets sold at Sunshine Coast Saddlery meet the current safety requirements for EFA as at the date of publishing this article.
Helmet tagging is mandatory for all EA Affiliated Eventing competitions, EA Affiliated Jumping, Dressage, Driving and Endurance events.
CURRENT APPROVED SAFETY STANDARDS FOR HELMETS
(taken from Equestrian Australias website on 30 June 2023, please check there directly for updates as we do not garantee that this information has not changed)

As per the EA General Regulations, Article 122.2: Dress and Salute, the following will apply: 
Except where Sport Rules allows otherwise, riders and drivers competing in an EA competition, must wear an approved helmet with the chin strap fastened at all times. The same is recommended when riding a horse at any time.
Protective headgear must conform with one of the current approved safety standards:
Current Australian standard

 

AS/NZS 3838

 

(2006 onwards)

 

provided they are SAI Global marked.
New Australian standard

 

ARB HS 2012

 

provided they are SAI Global marked.
Current American standard ASTM F1163

 

(2004a or 04a onwards)

 

provided they are SEI marked.
Current American standard

 SNELL E2001.

Current British standard

 

PAS 015

 

(1998 or 2011)

 

provided they are BSI Kitemarked.
Interim European Standard

 

VG1

 

(01.040: 2014-12)

 

with or without BSI Kitemark.
BSI Kitemarked:  

 (the BSI Kitemarked logo can look different depending on the year of manufacturing of your helmet. This is only given as an EXAMPLE)
SAI Global marked:  

SEI marked: 
NOTES :
On December 16, 2014, the European Union announced that the (BS)EN1384 helmet certification standard would be withdrawn. EA decided to withdraw this certification from the list of approved standards, starting on 1 January 2017.
Helmet Manufacturers generally recommend replacing your helmet every 5 years or so.
If you have a hard-blow impact accident while wearing your helmet, it is recommended to immediately replace it for a new model. There may be damage to the helmet that is not visible to the naked eye.
It is the rider's responsibility to wear the approved standard.
The club/organising committee's role is to take reasonable steps to ensure compliance with the rules by communicating the list of approved standards to their members/competitors when becoming a member or entering a competition.